A Collaboration with Jonathan Wong - The First Official S.I. Athlete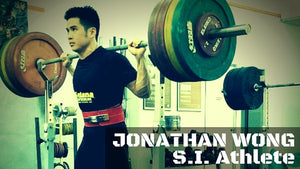 Jonathan Wong – an accomplished coach & personal trainer, a fiercely competitive athlete, a passionate entrepreneur, a loving family man.

Jonathan Wong has been actively involved in the fitness industry for more than 10 years. He has worked extensively as a group & personal fitness instructor, performance coach and fitness educator. He is also the Founder and Co-Owner of the first CrossFit affiliate in Malaysia and South East Asia – CrossFit Malaysia @ PushMore Fitness Centre.

As a coach, his passion and knowledge in fitness has helped numerous individuals from all ages and various walks of life achieve better health, stronger bodies and improved performance. He is a certified CrossFit coach, ACE personal trainer, IKFF kettlebell trainer, TriggerPoint Performance Therapy Master Trainer and Weightlifting coach. His wholesome approach to fitness coaching is evident in his balanced emphasis on strength-building, mobility, proper technique, good nutrition and sufficient rest.

As an athlete, Jonathan is a multi-talented athlete demonstrating mastery of various sports including powerlifting, weightlifting and gymnastic skills, among others. A frequent podium finisher in various local and regional CrossFit, weightlifting and powerlifting competitions, Jonathan is well-known for his explosive strength and graceful movements.

Outside of the gym, Jonathan is a fun-loving guy who's known for his love of coffee.
Truly a role model.

We're honoured and proud to recognise him as our first official S.I. Athlete!
Stay tuned as we bring to you exclusive insights into his training regime, his preferred training gears as well as more useful knowledge on fitness in general.